Press Release
Receive updates, sales and special offers!
Connect with Us
Aug 29, 2014
Ask the Locals: Okesene "Okie" Tilo of the RITZ Ybor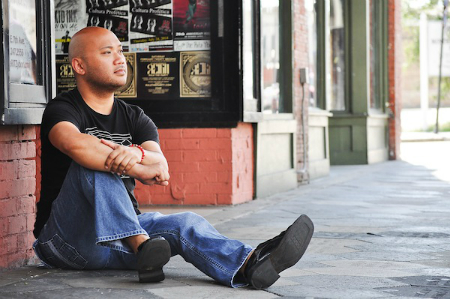 Okesene Tilo is the director of public relations, marketing and events at the RITZ Ybor. He arrived at the storied theater in 2008 after it had undergone a transformation from seedy nightclub to hip new concert venue.
Tilo –– known as "Okie" among Tampa Bay artists, musicians and Ybor clubbers –– is a 34-year-old social butterfly; an Ybor denizen with a weakness for Madonna, music festivals and comfort food.
An Army brat, Tilo was born in Berlin, Germany and moved to Tampa in 1991, where his knack for bringing people together made him the obvious choice for senior class president at Armwood High School in Seffner.
He studied political science at the University of South Florida and in 2005 produced his first fundraising event. The project proved the perfect outlet for a party-going extrovert with an admitted "OCD streak."
For five years Tilo served as the managing director of Square One Creative, a collective of artists, designers and entertainers best known for hosting raging art parties at venues across Tampa.
In addition to his work at The RITZ, Tilo is the managing partner of the Up Up Up Group, a special event, festival and attractions planning company. He serves on the steering committee for Pride & Passion at the Tampa Museum of Art and the planning committee for Festa Italiana.
Best Ybor watering hole: First Chance Last Chance in Ybor. "It's not too overwhelming or too loud. It's a good place to have a conversation with someone over drinks."
Best place to people watch: The bench in front of Honey Pot. "You'll see rockers, hipsters, drag queens and people in fetish costumes coming and going."
Best reason to cross the Howard Frankland bridge: Sake Bomb. "They make my favorite saketini. I've tried to replicate it at home and I can't."
Best cheap date: Five Bucks Drinkery in St. Pete. "Nothing costs more than five bucks. You can get loaded tater tots, a root beer float and a Frito pie. It's like a Jack in the Box."
Best weird food fusion: Nitally's Thai-Mex Cuisine. "Thai food mixed with Mexican food is a nice little twist. It's an interesting place. You'll always leave with your nose and eyes burning from the spices."
Best food truck: Aloha To Go. "Whenever they feature the Loco Moco I go nuts. It's a hamburger patty over rice with gravy on top. Their Facebook page tells you where the truck will be. They go to Tampa General a lot. I've got no shame. I'll follow that food truck to the hospital."
Best hidden park: Edward Medard Park and Reservoir in Plant City. "It's a gigantic park with hiking trails and tons of outdoor activities. It feels like you're in North Carolina."
Best act to play the RITZ: Sharon Jones and the Dap-Kings. "Everyone I know was going crazy for her and she actually lived up to the hype. She was at the merch table at the end of the show talking to every single fan. She was very down-to-earth and natural. I felt like I'd known her for years."
Best place to stretch out: Yoga Loft. "Yoga actually works! I started going two and half years ago. Now I can completely touch the floor."
Best new local band: The Sh-Booms out of Orlando. "They're amazing. I saw them at The Hub. I'm somewhat of a Sh-Boom stalker now."
Best wild Friday night party: The Filthy Richard Party at The RITZ. "If you want to full-fledge drink and dance this is the place to go."
Best all-American eating: The Florida State Fair. "I don't eat fair food regularly, but when I do go all out. My friends and I go on rides first, then eat every ounce of fried food we can find: fried Pepsi, fried bubble gum, fried butter, funnel cakes, elephant ears … This isn't just one day of cheating, it's destroying your entire eating plan for the month."
Best way to burn off fair food: Spin class at Powerhouse Gym. "I take Mike Hammonds' class every Tuesday and Thursday at 7 p.m. DJ Jason Krouth spins EDM, dance, Top 40s and 90s hip-hop. The guy has a following because his class is always full."
Best bargain basement finds: Revolve Clothing Exchange in Ybor. "I once found this Michael Jackson Thriller jacket. It was such a rare find I got a call from someone at the store asking if I still had it. Apparently it was in high demand."
Best way to tick off your dentist: Binge on croissant donuts at Piquant. "Everything they bake gets reserved. Basically you have to call and place an order. There's a waiting list. My friends made fun of me for loving this place and then they had a croissant donut and now they're hooked. It's heaven."
Best guilty-pleasure greasy chain: Church's Chicken. "I'll go to get my fried okra on. A big box of okra at Church's is cheap!"
Best way to spend a silly Sunday: At an auction at Myers Fine Art & Antiques. "Once or twice a year my friends and I get dressed up and go to Myers in St. Pete. We don't go to bid. We go to watch. It's crazy what some of these things sell for. People are actually on the phone with bidders. You'll see someone throw down $5,000 for a spoon."
http://cltampa.com/dailyloaf/archives/2014/08/29/ask-the-locals-okesene-okie-tilo-of-the-ritz-ybor#.VAifPLHD_s0
Receive updates, sales and special offers!
Connect with Us